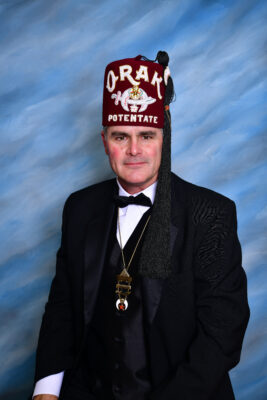 Nobility,
It is an honor and a privilege to serve as your Potentate of Orak Shrine for the year 2023. I look
forward to serving, and will do so with the utmost respect and dignity. We, as Nobels of Orak
Shrine, have committed ourselves to representing Orak and all of the great work we do for the
children our philanthropy reaches.
Shriners Hospital has been helping children and their families throughout the world for over 100
years, treating over 1.5 million children. They remain committed to continuing vital research to
improve pediatric treatments and care provided by expert physicians and nurses who share our
mission. The children and their families remain the reason why we do what we do. It is my goal
to increase our fundraising revenue this year and will do so by focusing our fundraising efforts
on Comedy Night (Feb. 18th), Shriner's Onions (Jan - April), Ladies Tea (April 29th), Hog Roast
(Aug. 19th), Sportsman's Gun Raffle (October 21st), and Shrine Circus (Nov 24th - 26th).
I look forward to working with all the units and clubs of Orak in support of their missions. I am
especially excited to give away bicycles at the Shrine Circus, invite the Easter Bunny to the
Children's Easter Party, and welcome Santa with presents to the Children's Christmas Party.
And a special thank you in advance is owed for the continued support of the Ladies of Orak.
While attending your Blue Lodge meetings this year, I ask that you spread the word of what it
means to Be a Shriner and join the world's great philanthropic organization while continuing
your Masonic journey.
If you haven't been to Orak in a while, I welcome you to come to a stated meeting or one of the
many events scheduled this year and support me and our Shrine as we strive to better our
community. Please see the calendar on our website and be sure to mark yours. Also, check out
our Facebook and Instagram pages, both are orak_shrine.
Delivering fun and fellowship,
Mitch Hulva, Potentate 2023